Social media marketing is not just posting a content on social media platforms for people to comment or like. It is a powerful tool marketers use to build their brands.
Today, everybody is talking social media marketing. Guess what! It's not all that talk about it understands it.
If you have been around the digital world, then social media is not a new word. Am sure you even checked your inbox on Facebook or Twitter or even posted a picture on Instagram a few minutes ago.
But then, do you actually understand the real idea behind social media? If you do, then what about the marketing aspect?
In this article, you will be guided on what social media marketing is all about. It provides a simple definitional guide including overviews of the prerequisites to become effective.
Am sure you will smile after getting to the end.
So let's begin with the big question:
What is Social Media?
Social media is a term used to describe the gathering together, sharing of information, discussion and interaction between one another usually at a specified place or environment.
Social media is usually a peer-to-peer interaction. That is, communication between individuals that share certain common interests and similar characteristics. These interest and characteristics could be age, education, religion, belief, idea, objectives etc.
Do you know social media activities did not start with the internet? Yes, it did not.
Remember those days in the high schools or secondary schools when we use to gather during break periods at a specified place for the sake of sharing ideas, information and entertainment. We call it "social gathering" which is still part of what we do today but in a very dynamic way.
In fact, if I had better marketing knowledge then, I would have been introducing a product to friends when we gather back then. I bet you, better sales may have been made as well.
Trust me, we could have called it "social gathering marketing". Funny right?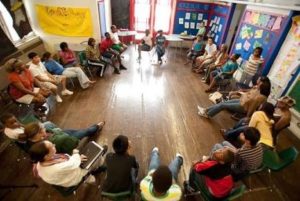 Image Credit: Quora
Obviously, the arrival of the internet has made social media a global thing. The internet has provided online environments like Facebook, WhatsApp, Twitter, LinkedIn, Pinterest etc for people from different countries to meet, share information and even get entertained.
The internet has brought about boundaryless interaction and communication, and that's what social media stands on today. In fact, it took its shape because of Web 2.0, a development on the internet that enables users to easily interact with one another using the world wide web (www).
Social media now involves the adoption of computer-based systems, applications, websites etc to communicate, relate and share ideas with each other. It is associated with the building of communities or networks and inspire people's participation and engagement.
Basically, common social activities include sharing of articles, videos, audios, pictures, comments, likes, hashtags, and live streaming using social media platforms.
Does Social Media Cover large Aspect of the Internet business?
Yes it does!
The idea of social media now covers large areas of blogs, forums where people share ideas, collaboration and even get entertained, business networks, photo-sharing platforms where people upload, download and exchange pictures, social gaming, microblogs, chat apps, and of course social networks.
Most times, it involves word of mouth (WOM) communication. That is people, telling others about their experiences. It could be about an incident, event or experience gotten after the use of a product. When such is done online, it's usually called electronic word of mouth (E-WOM).
With the advent of the internet, you can tell 1 million persons about your current or previous experience in less than a minute.
Social media is already among the biggest things today. It is becoming unavoidable for firms who really want to keep up the pace. It's not a hype, it's real. In fact, any organization that ignores it is at their peril.
Do you still need to be convinced?
Here are statistics of 2018 Global Digital suite reports from We Are Social and Hootsuite. The report captures how many persons use the internet, social media platforms, and mobile phones users.
The report summarized that:
Number of internet users in 2018 is 4.021 billion, up 7 percent year-on-year.

Number of people using social media in 2018 is over 3.196 billion, up 13 percent year-on-year.
Users of mobile phones in 2018 is 5.135 billion, up 4 percent year-on-year.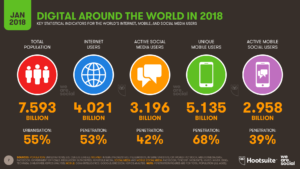 You see, that's exactly why lots of business practitioners and especially digital marketers have embraced social media marketing.
They all agree and believe that since social media platforms bring lots of people together, it will be easier to pass information or tell them about their products at once.
So what Is Social Media Marketing All About?
Social media marketing (SMM) is part of an online or internet marketing strategy that involves the distribution of contents on social media platforms in order to achieve online marketing objectives.
Social media marketing makes the use of social media communities like Facebook, Twitter, Instagram, LinkedIn, Pinterest etc to attract, engage, retain and convert potential customers into actual customers.
In a simple form, social media marketing is any marketing activity performed on social media platforms. The marketing activities could include pricing, distribution, selling, bargaining, campaigning, promoting, positioning etc all in the bid to communicate value to potential or actual customers.
Other Definitions of Social Media Marketing
To other understand the concept of social media marketing, lots of authors have expressed their thoughts by providing definitions that suit what the concept is all about.
For example, Toby  a writer at content marketing institute tried to explain what SMM entails by differentiating it from like terms such as content marketing.
For him, social media marketing basically places emphasis on two main objectives-brand awareness and customer retention. SMM focuses on engagement activities and discussion around a brand. In his explanation, firms can use social channels as an open forum for direct dialogues with customers.
These could involve relating to customers' questions and complains via a social media platform. "Social media marketing refers to the process of gaining traffic or attention through social media sites." Seladmin @ Search Engine Land 
Social media marketing (SMM) is the "use of social media websites and social networks to market a company's products and services. Social media marketing provides companies with a way to reach new customers, engage with existing customers and promote its desired culture, mission or tone. "Investopedia 
Social media marketing refers to the "use of social media platforms to identify and connect with key audiences in a meaningful way. "Jeff Bellas
Social media marketing is the "process of marketing through social media sites like Twitter, Facebook, and YouTube." Daniel Nations 
In most cases, social media marketing (SMM) does not just end at posting contents like pictures, videos, audios etc. It could as well involve paid social media advertising.
In paid social media ads, the contents posted in the social media platforms are sponsored or boosted by making payment to the admins of the platform. For instance, a post on Instagram can be boosted after paying for certain charges that allow the post to go more viral.
It allows the user to specify the target market, its characteristics, and demographics of which the post is meant to reach.
However, social media marketing can be adopted to meet both marketing and general business functions. These functions form parts of the uses of social media marketing.
What are The Uses of social media marketing?
Customer Collaboration: Social media marketing can be a place that allows firms to initiate partnership relationships between them and their customers. You can call it social collaboration.
Market research: Firms can use social media marketing to make research by interacting with customers and using the feedback to know what they want and don't. In fact, with the sophisticated nature of social media analytic tools, a marketer can easily get deeper insights about consumers desires and preferences based on their personal characteristics.
Customer Relationship Management (CRM): Sustaining and maintaining a relationship with existing customers can be done effectively and efficiently using social media platforms. The efficiency comes via it's cheaper cost of communicating and interacting with a large number of customers. It's effectiveness is based on the speed and accuracy. SMM can enable a digital marketer or a business organization to reach thousands and millions or it's customers in less than a minute without the mistake of reaching the wrong person. Especially, with paid ads arrangements. CRM is usually done with idea that it is less expensive to retain existing customers than to get new ones. Hence, SMM can be used as a strategy to manage and retain existing customers.
Sales Transaction: You must not sell when customers come to your store, whether online or offline to take a look at your products. You can as well tell customers about an existing product and get an instant click for purchase via social media marketing activities. It all depends on the level of relationship with the customer. You can as well share your landing page link on your social media pages which could act as an indirect way of initiating sales.
Employee Collaboration: Social Media marketing can as well be used to achieve internal branding. That is, building a stronger relationship and bond between organizations and their employees. Employees can easily be communicated to, interacted with, get feedbacks which will definitely help in carrying out marketing activities effectively. For example, today, most firms create social media groups on social media platforms such as Facebook and WhatsApp where they freely interact and share information at a very less cost.
What Are The Prerequisites For Social Media Marketing Effectiveness?
Having A Profile: Having a profile means that you must register with the platform which will enable you to get both username and password. This is usually the first thing to do before you start leveraging what social media marketing has to offer.
Having a plan or strategy: SMM will not really work better for you if you don't have a predetermined arrangement of how you want to use it.
Thinking customer-centric: Everything about social media marketing must begin with the customers in mind and not only about how to increase sales.
Understanding social media marketing as what strengthens other forms of marketing: It should be seen as one way to aid other marketing strategies not just as a standalone.
Avoiding broadcasting mentality: SMM is not just a way to an announcement about the arrival of a new product. To ensure effective social marketing practices, don't take social media platforms as dumping grounds. You must never think that everything you say on social media will be accepted. Social media platforms are not just a place for an announcement; instead, let it be a place to educate and interact with your target market.
Approaching Social media platforms differently: one needs to Know that all social media and networks are different; they have a different way of operation even though they are in for similar purposes. You have to handle each platform in a different manner. For instance, a post or tweet on Twitter is approximately 140 characters which are quite different from Facebook, and Instagram. So when making an update, you need to know the limit of characters to use to enhance readability and attention.
Seeing Your followers as people: All those that follow your page on the social media platforms are not robots, they are humans and should be seen as people. Care and treat them like humans who have fundamental human rights.
Listening to your followers: Listen, measure, monitor and act on what you heard. Reply messages, comments and questions asked either in a post or inbox of your social account.
Provide Value: Social media marketing does not just end at trying to capture buyers. You need to also help customers solve their problems. Provide value that will make life easier for your followers and make them never regret liking or following your page.
Be committed: The fruit of social media marketing does not usually come instantly. No digital marketer is a magician, it could take a while before you get responses from social media users. Commitment is a prerequisite for becoming effective in your social media marketing activities. After you have made a post and nobody liked, shared or commented, don't give up. It could be that the next post will work out.
Focusing on few: Another important thing to become effective on social media is not to be everywhere. You know that saying, "Jack of all trade, master of none." It could happen to you if you don't focus on a few.
Final Note
In this article, it has been established that social media did not begin today. People have always had ways to meet, chat and get entertained. Social media changed significantly since the rapid growth of the internet.
Now thousands of companies want to meet with their target audience online, that is what we now call social media marketing today.
I believe the article provided an explanation of what social media marketing is all about. The definitions from other writers reviewed have as well opened your mind to define it in your own way.
A list of prerequisites to become effective on social media marketing was also presented. Though now comprehensive, but it covered a lot.
Now you have gotten more than a glimpse of it. So, define social media marketing in your own way. Also, hook up your social media accounts and make good use of it.
Do you feel something important was left out? Drop your comment in the comment box below. I'll be super happy to hear from you.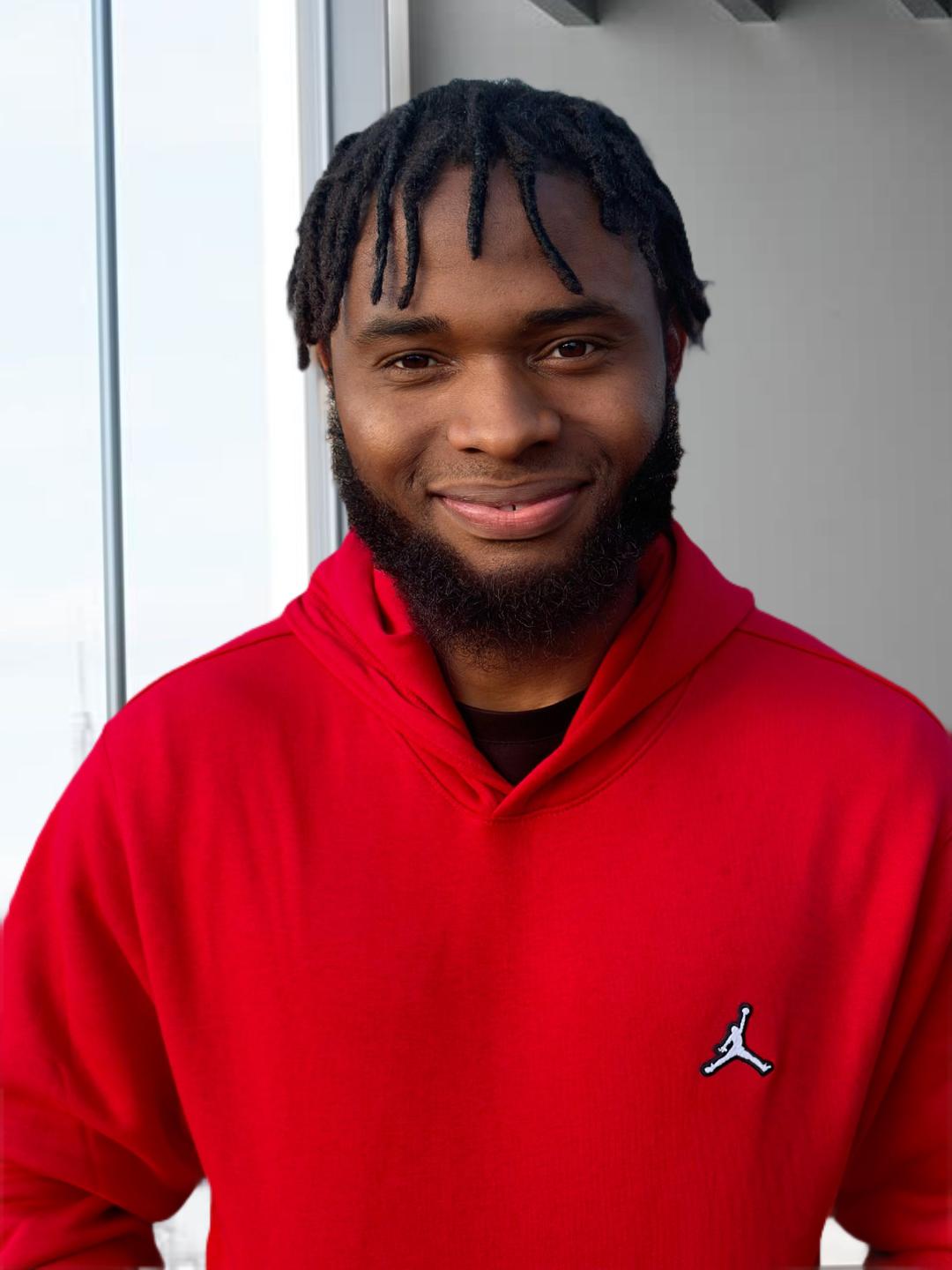 Jackson is an obsessed content marketing specialist. A brand storyteller, not a teller of stories. He is passionate about helping online businesses grow with compelling digital marketing strategies. Follow him on Twitter,  LinkedIn, and Instagram.